Discover more from Riyadh Bureau
News, analysis and commentary on Saudi Arabia
Over 3,000 subscribers
Unleash the beast
Welcome to the latest edition of Riyadh Bureau, a newsletter for people interested in Saudi Arabia — written by me, Ahmed Al Omran. If you are not a subscriber, please use the button below to subscribe. Send your feedback to alomran@gmail.com or via Twitter: @ahmed
Coachella who?
BANBAN — As the sun slowly disappeared behind yellow sand dunes in a chilly December weekend, tens of thousands of young people descended on this barren plot of land, 40km north of Riyadh, where a series of stages, VIP boxes, food booths and temporary toilets were rapidly erected for an event that was promoted as "the largest music festival ever in the region."
Saudi royal court adviser Turki al-Alsheikh, who also heads the kingdom's General Entertainment Authority, urged his 3.7 million followers on Twitter to "wear the bandana and go" to MDL Beast, a huge electronic music party featuring dozens of foreign and local DJs from 4pm to 2am over three consecutive nights. Organisers said a crowd of more than 400,000 visited the site, making it bigger than Coachella.
The numbers are certainly impressive for a first-time event that was not announced until the start of this month. In addition to the heavy promotion by al-Alsheikh and others, every measure appeared to be taken to build interest and focus attention on the festival. Other major attractions and events in Riyadh were suspended and tickets were discounted by 50% from their original prices.
As you pass security and enter through the gates to the purpose-built venue, you would be forgiven if you briefly thought that you have been teleported to another country. Young men in thobes next to gender-ambiguous teenagers in flashy outfits swaying to music and local girls showing their midriffs as they jumped to the heavy bass beats by David Guetta, J Balvin and Afrojack. If there is an image of what the new modern and moderate Saudi Arabia is all about, this was it.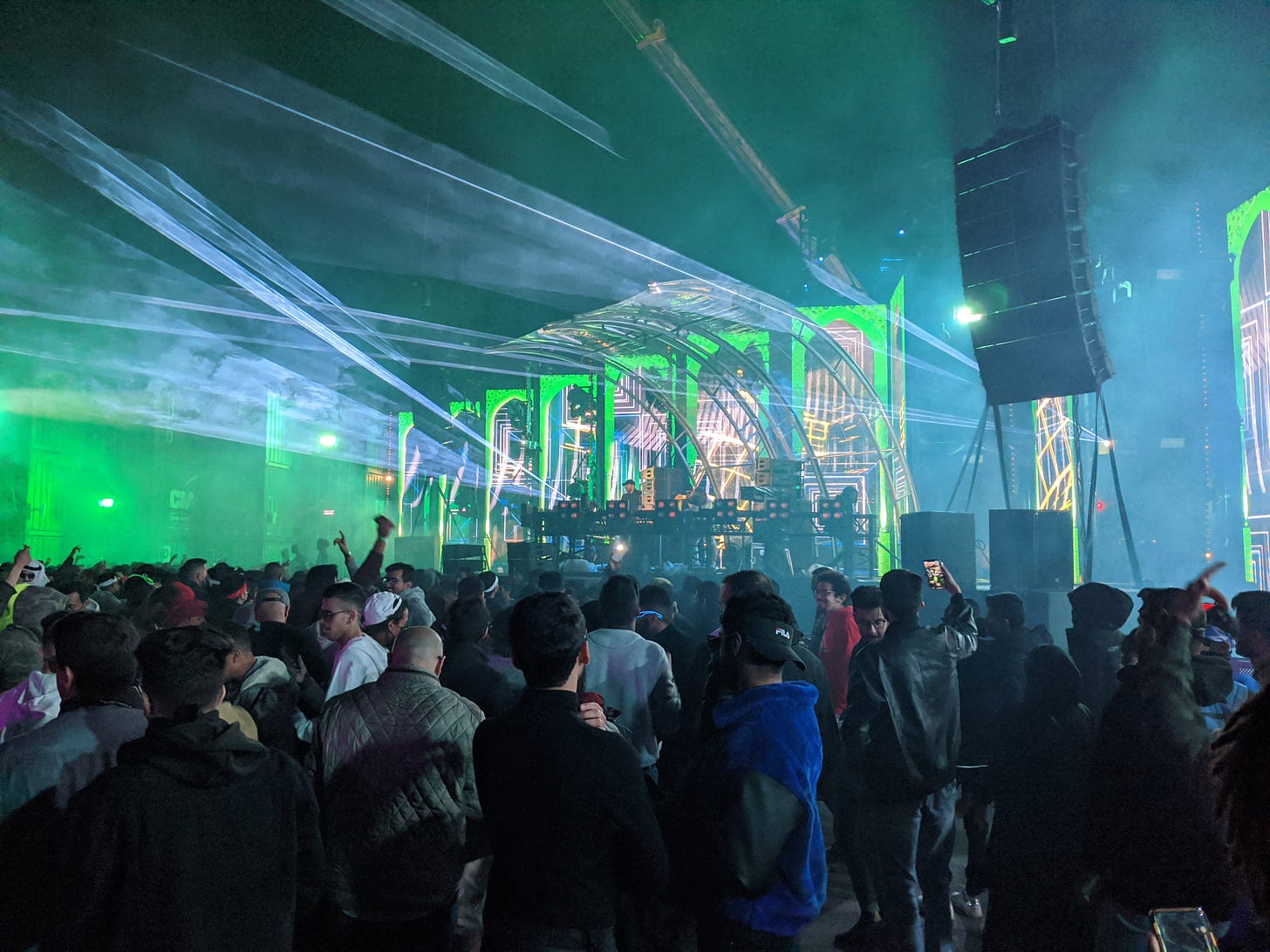 However, the event had its fair share of issues and controversies.
Many women, who were vastly outnumbered by men, complained about sexual harassment. Riyadh police announced later that 24 men were arrested for sexual harassment at the festival. The police also announced on the same day that 9 women were arrested for breaking the public decency law, though it was unclear from the statement if it was related to the event or a separate thing.
"I think officials wanted to send a reassuring message to society that acts and behaviours that violate the public decency law documented in videos and photos circulated on social media are rejected and will not be tolerated," columnist Khalid al-Sulaiman wrote in Okaz daily, "while the message to females was that recent social changes do not give them absolute freedom and do not put them above the law."
Despite the country's official ban on alcohol, videos and photos taken after the event appeared to show empty bottles of vodka and whiskey in the VIP boxes of big name guests, some of them transported to the location by helicopters to avoid getting stuck in the horrendous traffic jams on roads to and from the venue.
Many foreign influencers were invited to attend the festival and post about it to their millions of followers on social media with captions about how the "spectacular" and "revolutionary" event shows the changing face of Saudi Arabia. Those influencers later faced criticism for promoting the musical extravaganza while ignoring the kingdom's human rights record just a few days before five people were sentenced to death for killing journalist Jamal Khashoggi.
The case was seen as a test of how serious Saudi Arabia is about addressing a crisis that has sent the kingdom into its worst diplomatic crisis since the 9/11 attacks and strained its relations with western allies.
In addition to the five death sentences, three others were sentenced to a total of 24 years in prison. Two former aides to the crown prince were exonerated: Former royal court adviser Saud al-Qahtani was investigated but not charged, while former deputy intelligence chief Ahmed Assiri was charged but the court dismissed it. Lack of evidence against the two men was cited as the reason, according to the deputy attorney-general who announced the verdict on December 23.
Poke in the eye
The contrast in reactions to the verdict was stark.
Human rights groups like Amnesty International called it a "whitewash" and criticised the trial for lack of transparency. Access to court was limited, but officials said the Khashoggi family and representatives from the embassies of the five permanent members of the UN Security Council as well as members of local human rights organisations attended the hearings.
Many pro-government voices lauded the verdict as evidence of the independence of Saudi judiciary and took to social media to post celebratory messages welcoming the return of Qahtani and Assiri, saying their innocence was "never in doubt" and praised them for serving the country proudly.
Qahtani was sanctioned last year by the US, along with 16 other Saudis, in relation to the killing that took place in the kingdom's consulate in Istanbul in October 2018. The Americans are likely to see the sentences as "a poke in the eye" after they spent months privately pressing the crown prince for accountability and an acknowledgment of his former advisor's role, according to Washington Post columnist David Ignatius.
The sentences can be appealed and Qahtani has not made any appearances since the verdict, but he seems to have been deeply hurt by the damage to his public image over the past year. State television posted a video highlighting his career and achievements, a rarity for a former official who was sacked by royal decree in contentious circumstances.
His supporters have also circulated a long defiant poem attributed to him where he attempted to defend his honour and lashed out against his enemies, particularly Qatar and Turkey. "They wanted to break Saud or defeat him," he wrote. "And I remain standing tall like a great mountain."
It remains unclear whether Qahtani would be reinstated in government, but if his official return to power is confirmed then that raises questions about some policies and issues, including any potential resolution to the Gulf crisis. Qatar foreign minister said some progress has been made in talks with Saudi Arabia but Sheikh Tamim skipped the GCC summit in Riyadh earlier this month.
In other news
Saudi king approved the country's budget for 2020, including a cut of 8% on defence spending. Even though non-oil GDP will remain solid at 2.7% in 2020, the crown prince is said to be unsatisfied with the state of the economic reform programme and officials are reviewing many parts of "Vision 2030" that could be cut, merged and amended.

It took Saudi Aramco just two days after trading began on Tadawul to reach the coveted $2 trillion valuation. WSJ is reporting that an international IPO remains on the table and officials held meetings about potentially listing in China or Japan.

Twitter has suspended tens of thousands of accounts that appear to be linked to the company of a Saudi citizens accused in the US of spying over what the social media giant described as a "significant state-backed information operation" originating in the kingdom. Smaat, the Saudi company, has threatened to sue Twitter.
---
That is all for this dispatch from Riyadh Bureau. Thanks for reading! You can send your feedback by email: alomran@gmail.com. If you enjoy this newsletter please do share it with others. Happy new year!