Discover more from Riyadh Bureau
News, analysis and commentary on Saudi Arabia
Over 3,000 subscribers
The new abnormal
Welcome to the latest edition of Riyadh Bureau, a newsletter for people interested in Saudi Arabia — written by me, Ahmed Al Omran. If you are not a subscriber, please use the button below to subscribe. Send your feedback to alomran@gmail.com or via Twitter: @ahmed
Virus blind spot
Saudi Arabia has appeared to have the coronavirus under control for most of March, with a total number of confirmed cases below 2,000 and less than a dozen deaths reported.
The early precautionary measures taken by the government seemed to be working. But by the second week of April it has become increasingly clear they had a blind spot: not enough was done to prevent potential outbreaks among foreign workers who live in overcrowded buildings and densely populated neighbourhoods.
The kingdom reported its first coronavirus case on March 2 and it took 48 days to reach the 10,000 cases milestone. That number doubled to 20,000 cases about one week later with a death toll of more than 160 people.
More than 80% of the cases are among non-Saudis, the health ministry said. Authorities do not disclose the number of tests being conducted daily, which makes it difficult to gauge the status of the fight against the virus amid concerns that the curve is not flattening soon.
The government earlier this week announced plans to expand coronavirus testing as the kingdom started reopening parts of the economy and easing restrictions on movement with the all-day curfews being shortened to become 5pm to 9am.
Chinese company BGI Genomics said it won a $264.6 million contract from Saudi Arabia to provide nine million testing kits and build six labs around the kingdom, including a mobile unit. 500 Chinese experts and technicians will also travel to Saudi Arabia as part of the contract.
Other deals signed with companies from the US, Switzerland and South Korea will bring Saudi Arabia closer to its target of 14.5 million tests, or about 40% of the population, the government said.
Negative oil
Malls and other retail outlets were allowed to gradually reopen this week, reflecting some anxiety over the coronavirus and low oil prices impact on the economy:
The finance ministry reported a first quarter budget deficit of $9 billion, mostly because of a drop in oil revenues that reversed a first quarter surplus of around $7.4 billion in 2019.

Oil revenues in the first three months of the year posted a 24% annual decline to $34 billion and pushed total revenues down 22% year on year.
The latest figures came out the same day as the Saudi central bank's net foreign assets dropped by 100 billion riyals, or $27 billion, in March to 465 billion riyals, their lowest levels since 2011 and the fastest decline in almost two decades.
Officials insist that healthcare remains the country's top priority until the pandemic is under control. That means state spending is being cut from sectors like entertainment, sports and culture. But even as the government is seriously reconsidering its spending plans, the kingdom's sovereign wealth fund is going on a shopping spree.
The Public Investment Fund in recent weeks spent $775 million on distressed cruise operator Carnival, $450 million on battered events promoter Live Nation and nearly $1 billion on stakes at four European energy companies. Another $320 million deal to buy English football club Newcastle United is also in the works.
These deals suggest that PIF officials like governor Yasir al-Rumayyan are betting that things will quickly go back to normal as the world tries to overcome the coronavirus pandemic. The same appears to apply to the fund's Saudi-based gigaprojects.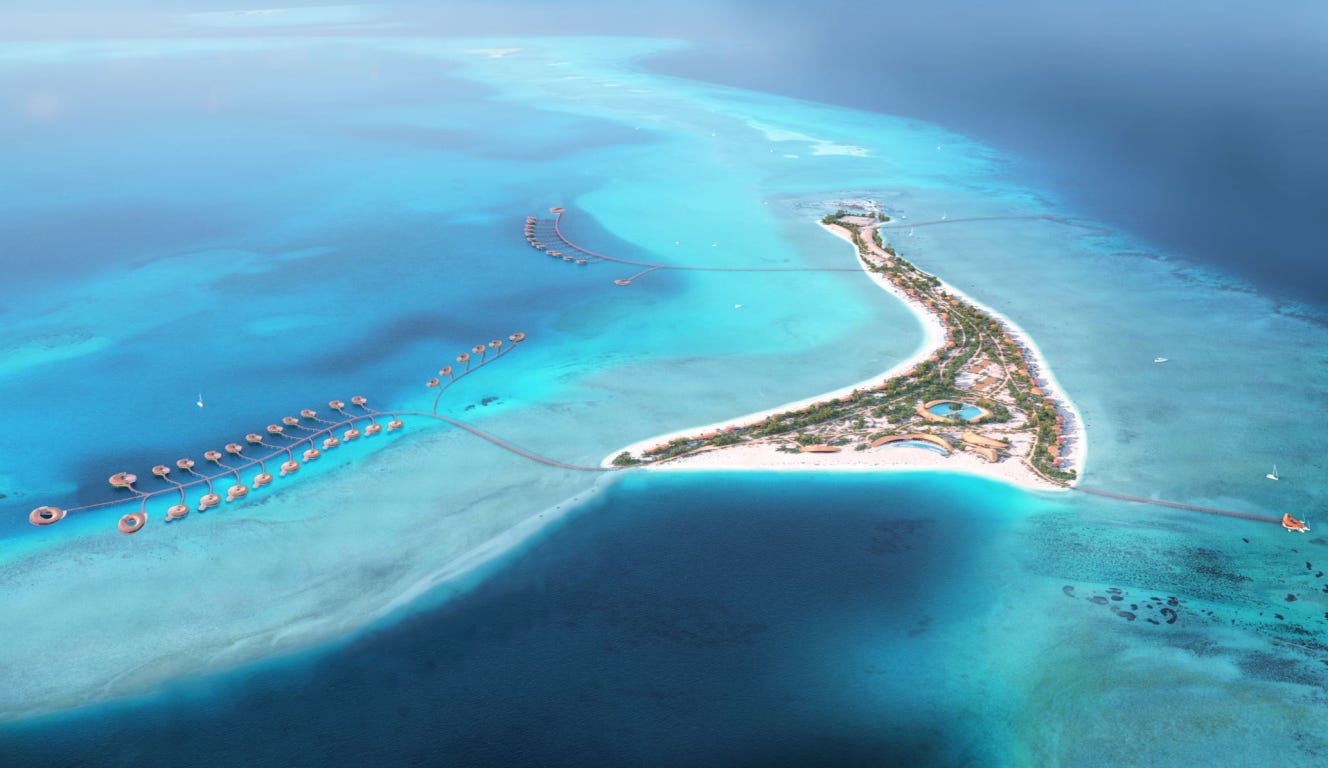 Big dream destination
The Red Sea Development Company released images showing locations of islands where "two hyper-luxury hotels and one luxury hotel" will be built. But further north along the coast, the $500 billion Neom project, described by its chief executive as a "a destination for people with big dreams," has run into trouble. Vivian Nereim reports for Bloomberg:
As Neom pushed forward with plans to resettle thousands of people to make way for the project, optimism gave way to uncertainty, then resistance. Some members of the Huwaitat tribe that lives in the area refused to leave. Months of tensions culminated in a deadly shootout last week with security forces, sparking worries over the potential for unrest in a remote region where gun ownership is common.
The man killed in the shootout was Abdulraheem al-Huwaiti who posted a series of videos where he criticised the government policy and declared that he won't leave his house. Authorities said he was armed and opened fire first at security forces. His tribe later "expressed loyalty to Saudi Arabia's leadership in support of the Neom project," according to the state news agency.
If you thought that Huwaiti's killing has some echoes of Abdulrahman Munif's Cities of Salt then you are not alone, but government supporters would rather you forget about this and focus on something else: Saudi Arabia has abolished the death penalty for people who committed crimes as minors and will limit the use of lashing as a punishment.
These steps have been debated and demanded for a few years. As I wrote for The Wall Street Journal in 2015:
Due partly to the negative attention flogging has drawn, authorities have been considering alternative penalties for the future, including community service, and travel and driving bans, according to interviews with lawyers and local media reports.
At first there was some confusion over whether child offenders convicted of terrorism crimes would be spared the death penalty, but the governmental Human Rights Commission clarified that that would be the case. International human rights groups welcomed these steps but said the kingdom still has a long way to go when it comes to judicial reform.
---
That is all for this dispatch from Riyadh Bureau. Thanks for reading! You can send your feedback by email: alomran@gmail.com. If you enjoy this newsletter please do share it with others.