Discover more from Riyadh Bureau
News, analysis and commentary on Saudi Arabia
Over 3,000 subscribers
Social fault lines
Welcome to the latest edition of Riyadh Bureau, a newsletter for people interested in Saudi Arabia — written by me, Ahmed Al Omran. If you are not a subscriber, please use the button below to subscribe. Send your feedback to alomran@gmail.com or via Twitter: @ahmed
Shake her.. stereotype
It is safe to assume that, as Saudi Arabia embarks on its journey of change, there will be hops, jumps and leaps. There will also be slips, drops and stumbles. Because change is not easy and can take many shapes and forms. That being said, it is very difficult to know where to place the decision to invite Nicki Minaj to perform in the kingdom on the aforementioned spectrum.
The coastal city of Jeddah has been celebrating a new summer festival, which included many concerts by famous acts, including the Backstreet Boys as reported in last month's dispatch of the newsletter.
As a result of the escalating crackdown on dissent over the last 24 months, conservatives have remained largely quiet as the country opened its doors to more entertainment, from music concerts to cinema theatres. But even for those who might be open to the changes taking place, this was probably a step too far.
"You can't be fucking serious and bring Nicki Minaj in Saudi Arabia, and then tell Saudi girls to wear the abaya when they want to have fun," a Saudi woman said in a profanity-laced video posted on Twitter. "She's going to go and shake her ass and all her songs are indecent and about sex and shaking ass and then you tell me to wear the abaya," she added. "What the hell?"
It is important to note here that the woman's objection was not against the concert per se, but rather the hypocrisy and paradox it represented. This issue of contradictions, particularly when it comes to defining what is acceptable social behaviour in public, won't go away and we are likely to see it spring up repeatedly in the coming months and years as the state continues to push its new agenda.
The organisers wanted to emphasise that hosting a performer likes Minaj shows how much the country has changed. "There is a stereotype of the kingdom all over the world, and today it is disappearing," said Raed Abuzinada, a senior official with the General Entertainment Authority. "In its place is a new picture of the kingdom, that accepts everyone."
Everyone, really?
As controversy around the concert mounted, Minaj eventually announced withdrawing from the event because she says she wants to show support for women's rights, gay rights and freedom of expression. Her decision came after pressure from activists and human rights groups, including the New York-based Human Rights Foundation.
"We are grateful to Nicki Minaj for her inspiring and thoughtful decision to reject the Saudi regime's transparent attempt at using her for a public relations stunt," HRF said in a statement.
The next day, Saudi newspapers carried reports saying a decision was made to cancel Minaj's concert before she announced her withdrawal. The reason given: "She violates the nature of music concerts organised in Saudi Arabia." It was a classic we-cancelled on-her-before-she-cancelled-on-us move, but it did raise the question about how the decision to invite her came about in the first place.
Warning: music inside
Minaj was out, but the show continued nevertheless: Janet Jackson, 50 Cent and Chris Brown joined the lineup and the concerts appeared to be successful.
For a country where music has been largely forbidden in public for at least 3 decades, the return of music as part of the social reforms promoted by Crown Prince Mohammed bin Salman represents a potential landmine, not just when it comes for major events like concerts in sold-out arenas but also on a smaller, individual level.
Earlier this month, a man from Riyadh took to Twitter to complain that he was forced to leave a restaurant after the manager refused his request to turn off the music that was playing there. His tweets, including the hashtag "Restaurants against God," quickly went viral and sparked the uncomfortable debate around a practice common all around the world but one that was only allowed in Saudi Arabia in the last two years.
While some people argued that he should have sought a restaurant that fit his personal beliefs instead of asking this one to turn off the music, the man insisted that he was well within his right as a customer to make such request. "I demand that restaurants put a sign outside that indicates there is music inside," he said.
This incident might seem trivial, but in reality it does reflect the sense of disorientation that many conservatives feel as they silently watch the country changes around them. If the increasing presence of music and gender-mixing in public makes them feel uncomfortable then they should brace themselves because there is more on the way, and the next two items on the menu are just as controversial.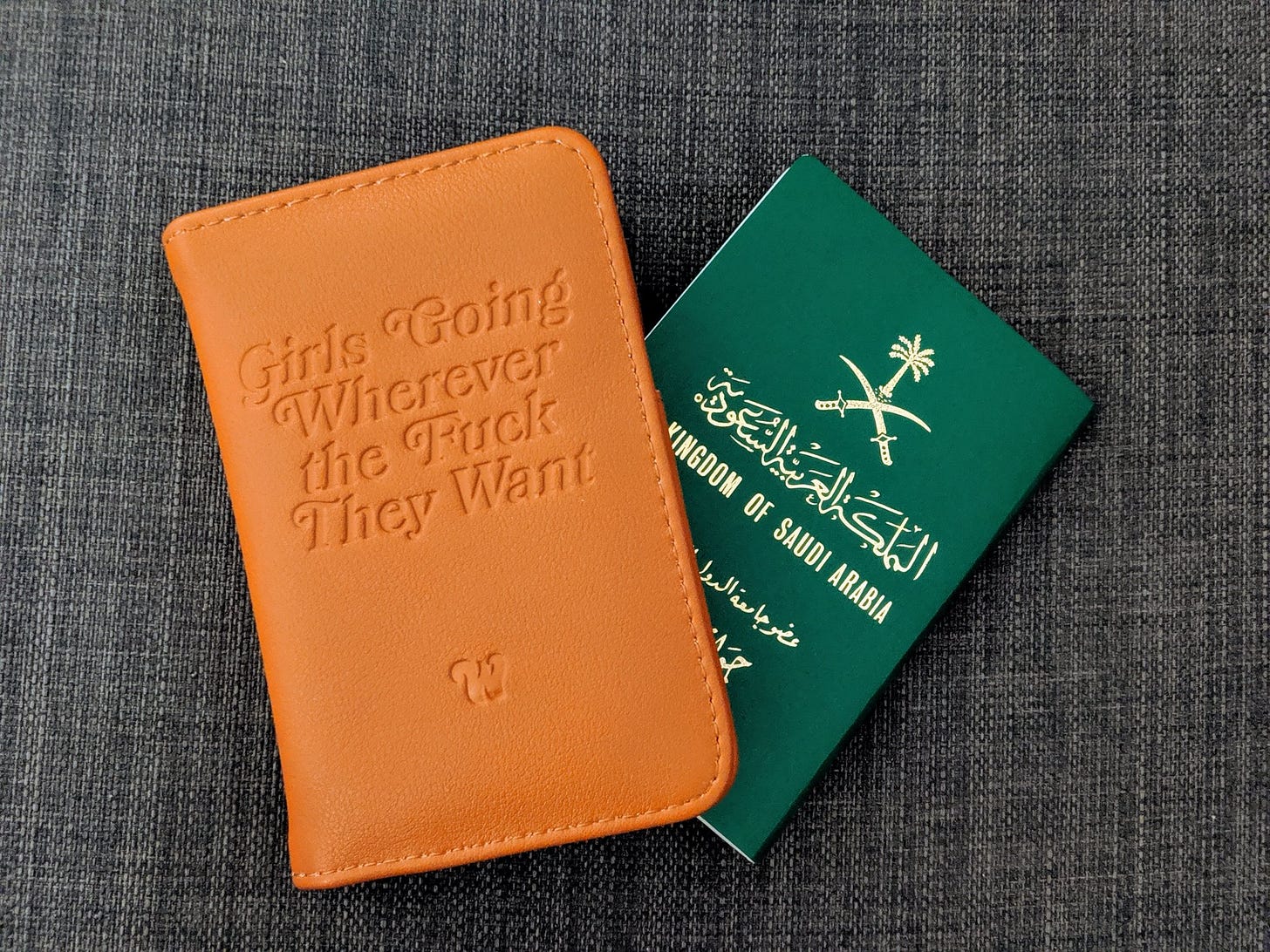 Like a prayer
The government plans to allow women to travel abroad without asking them to get consent from their male guardians, another long-awaited social change. The plan was first reported by local daily Okaz in a vaguely-worded front page story, and later confirmed by the Wall Street Journal and myself.
Under current rules, women of any age and men under 21 need a guardian's permission for international travel. A government committee has been instructed to reconsider the restrictions and is expected to change the rules to allow men and women to travel without the the guardian's consent after they reach the legal age, which could be 18 or 21.
Human rights groups have always criticised the kingdom for treating women as "perpetual minors." Some people worry that granting women the freedom to travel could lead to a semi-exodus for those who want to escape the control of abusive men in their lives, but this step would definitely represent a turning point for the women's rights movement in the country even as some of its most prominent figures remain on trial.
The other change that could be in the way is ending the practice of forcing shops to close for prayers, although there is far less clarity on that issue. The cabinet this month approved a plan to allow retail outlets to stay open 24 hours a day for a fee. Confusion over what that exactly meant dominated the hours after the cabinet meeting.
Al Arabiya said in a tweet that the decision included remaining open during prayers. But when a deputy minister was asked about it on air, he refused to answer. Pressed repeatedly by the anchor to clarify, the official kept saying: "this decision has nothing to do with opening or closing during prayer time."
The channel deleted their tweet, but Okaz newspaper reported the next day that a decision to open businesses during prayer times was imminent, citing "trusted source." Social media influencers linked to the government also appeared to hint at the same thing. 
Closing shops for prayer has been a source of deep frustration for many of us who feel forced to deal an unnecessary annoyance on a daily basis. Ending that would represent a major shift to the rhythm of life in the country, and while mosques are likely to continue welcoming the same numbers of worshippers, a move like this would be seen by many conservatives as the latest attempt to change the Muslim identity of the nation and push it towards more westernisation.
In case you missed it
One of my recent stories for FT highlights a renewed effort by the Saudi government to convince citizens abroad to come home as authorities become increasingly concerned about a vocal diaspora who can potentially damage the official reform narrative.
Passport photo is courtesy of BA
---
That is all for this dispatch from Riyadh Bureau. Thanks for reading! You can send your feedback by email: alomran@gmail.com. If you enjoy this newsletter please do share it with others.