Discover more from Riyadh Bureau
News, analysis and commentary on Saudi Arabia
Over 3,000 subscribers
Social distancing edition
Welcome to the latest edition of Riyadh Bureau, a newsletter for people interested in Saudi Arabia — written by me, Ahmed Al Omran. If you are not a subscriber, please use the button below to subscribe. Send your feedback to alomran@gmail.com or via Twitter: @ahmed
It is probably not an exaggeration to say that the world was a different place when I sent out the last edition of this newsletter a few weeks ago. Even as China struggled to contain the coronavirus and the disease started rapidly spreading in Japan, South Korea, Italy and Iran, it was hard to imagine how the outbreak would disrupt and change daily life as we know it everywhere.
Saudi Arabia reported its first case of coronavirus on March 2 in a citizen from the Shia-majority region of Qatif who has traveled to Iran. The man did not disclose to authorities his travel history out of fear he would be punished: the kingdom has severed its relations with Iran since 2016 and Saudi citizens are not allowed to visit the Islamic Republic.
Despite the ban, some Saudi Shia citizens would still travel to Iran via the UAE or other neighbouring nations that have regular flights to the country. The kingdom criticised Iran for granting entry to Saudi citizens amid the outbreak and urged those who visited the country to report their travel, promising if they did so within 48 hours that they would be exempted from the ban.
"These actions are a proof of Iran's direct responsibility in increasing COVID-19 infections and in the virus's outbreak all around the world," a Saudi official said. "This behavior poses a serious public health threat to the international community and undermines international efforts to combat COVID-19, putting many communities around the world at risk."
It is understandable why those Shia pilgrims decided to hide their travels to Iran, but this  was unquestionably a selfish and irresponsible behaviour that put their family, friends, community and the entire country at risk.
Less than a week after reporting the first coronavirus case, the health ministry announced four more cases related to travellers who returned from Iran and others who have come in contact with them. The government announced halting pilgrimage to the holy cities of Mecca and Medina. When the number reached 11 cases, all of them in Qatif, the government announced a quarantine on the area and suspended all schools.
On a personal note, I have planned for this month to be a quiet one because I was getting married on March 10. Our wedding did take place in Jeddah, but the coronavirus was already casting its shadow: Some guests got stuck while traveling to attend, others had to cancel. Those who attended were nervously reluctant to hug others. Two days after the wedding, the government announced a ban on all gatherings and urged all people to take the practice of social distancing seriously.
International flights from and to Saudi Arabia were suspended on March 15, and the lockdown orders came one day later: All non-essential government employees were told to stay home, all malls and open-air markets closed, restaurants closed except for takeaway and delivery services, all gatherings in public parks, beaches and resorts banned. Next came the ban on all domestic travel, which was quickly followed by a nationwide nighttime curfew.
As the coronavirus was spreading, two other major Saudi news stories hit the wires.
First, a sweeping crackdown against senior royals and security officers amid speculation of a failed coup attempt. The targets included former crown prince and interior minister Mohammed bin Nayef as well as his uncle Prince Ahmed, a brother of the king. Second, Saudi Arabia launched a price war against Russia after the two countries failed to reach an agreement on oil production cuts, sending crude prices to their lowest levels in almost two decades.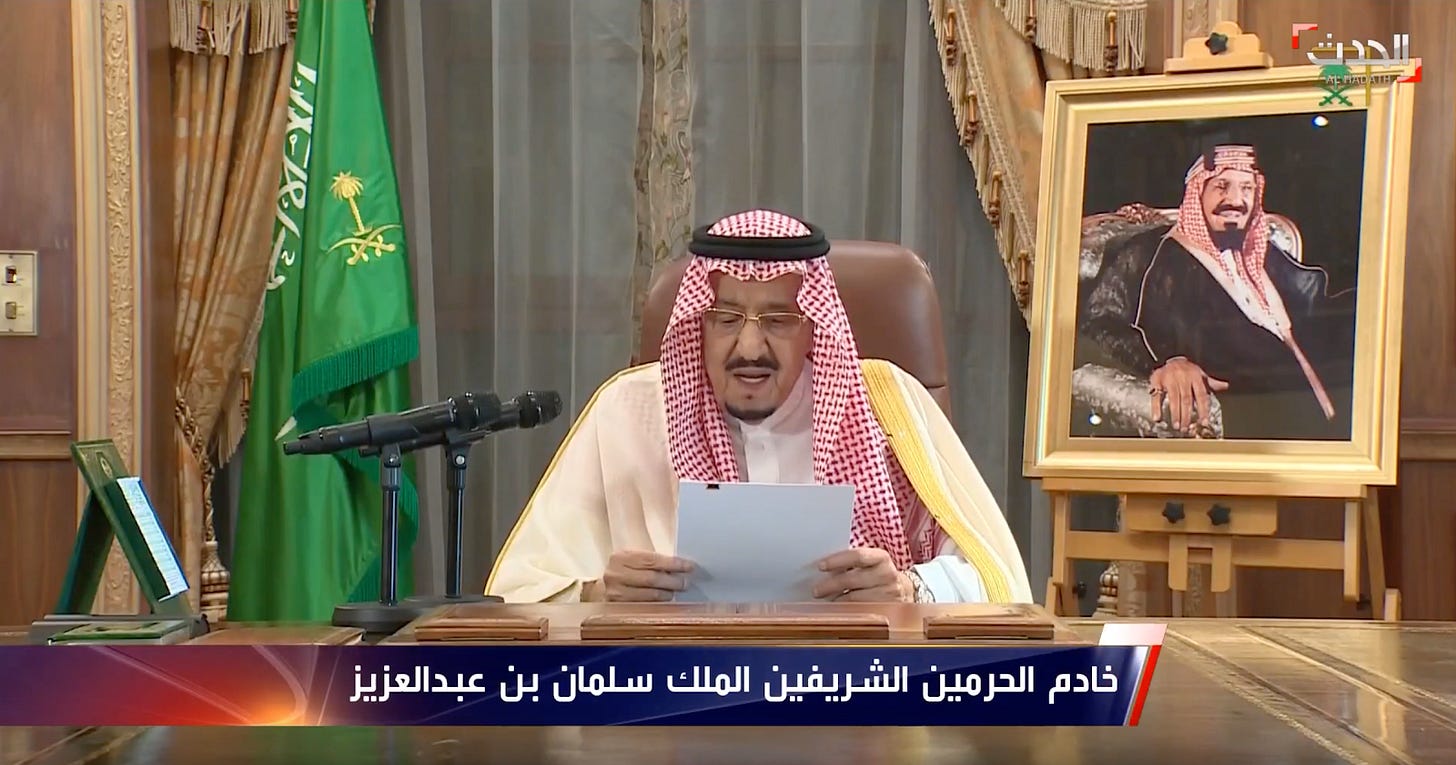 King Salman has acknowledged that Saudi Arabia is going through a "difficult phase" confronting the coronavirus in a rare televised speech. He urged people to work together and follow official instructions to contain the virus as he warned that "the next phase will be even more difficult on the global level to combat the rapid spread of this pandemic."
In response to the new reality, the government announced plans to cut spending by 5% and unveiled a $32 billion stimulus package for the private sector. Finance minister Mohammed al-Jadaan said other measures could be taken as the kingdom tackles the current crisis, but the state will not tap into its reserves or liquidate assets. Instead, the government will borrow more after the king approved raising the debt ceiling from 30% to up to 50% of GDP.
The king last week chaired a virtual summit for the G20 leaders to discuss a collective response to the coronavirus. They pledged to inject $5 trillion into the global economy and "do whatever it takes to overcome the pandemic."
Government supporters hailed the meeting that took place over teleconference as a sign that Saudi Arabia, which currently holds the G20 presidency, plays an important role on the international level as the world deals with the coronavirus outbreak.
Among those supporters is Sheikh Saleh al-Moghamsy, a 57-year-old cleric who has been a vocal proponent of Crown Prince Mohammed bin Salman and his vision to reform the economy and transform society. He has said that music is not haram, or forbidden, and does not believe that non-Muslims should be banned from entering the holy city of Medina.
"On this blessed day, we congratulate the Custodian of the Two Holy Mosques and ourselves on the success of the G20 leaders virtual summit, and I would like to add three more actions that may help defeat the outbreak: Pray to God and seek forgiveness, charity to the poor and needy, and pardon —if possible— prisoners," al-Moghamsy said on Twitter.
Pretty innocuous stuff, right? Well, that was not the case for ultranationalists who pointed out that his call for pardoning prisoners coincided with a campaign by Saudi opposition figures abroad calling on the government to release detained activists out of fear that the coronavirus might spread in jails.
Al-Moghamsy deleted his tweet and was quick to apologise, saying what he meant is releasing those held on petty crimes which is something that happens regularly, usually in the holy month of Ramadan. "To those ill-intentioned people who sought to use [the tweet] against my country, I say: your malice will backfire on you," he wrote in his apology.
250 foreign detainees held on non-violent immigration and residency offences were actually released last week as part of efforts to contain the spread of coronavirus, according to a statement by the state-backed Human Rights Commission.
Despite expressing his remorse and repeatedly showing his backing of the government's reform programme, this was not enough. He has been reportedly removed from his position as the imam for one of the major mosques in Medina. He also did not make his regular appearance on a weekly religious show on the Saudi-owned MBC channel where he featured every Saturday for over a year.
It was a dramatic fall from grace for al-Moghamsy. While not a member of the Senior Ulema Council, he was still seen as a rising star among Saudi clergy and some people even considered him a strong contender to become the kingdom's grand mufti one day.
Now he has to stay home like the rest of us, because the government also suspended praying at mosques.
---
That is all for this dispatch from Riyadh Bureau, sent to you from the city under coronavirus curfew. Thanks for reading! You can send your feedback by email: alomran@gmail.com. If you enjoy this newsletter please do share it with others.