Discover more from Riyadh Bureau
News, analysis and commentary on Saudi Arabia
Over 3,000 subscribers
Not just games
Welcome to the latest edition of Riyadh Bureau, a newsletter for people interested in Saudi Arabia — written by me, Ahmed Al Omran. If you are not a subscriber, please use the button below to subscribe. Send your feedback to alomran@gmail.com or via Twitter: @ahmed
I was barely six months old when Saudi Arabia's national football team won the Asian Cup for the first time in 1984 after defeating China in the final that was played in Singapore. Four years later, Saudi Arabia retained the title in Doha as they overcame South Korea in a penalty shootout.
Even though I was too young to remember myself, I have such fond memories of these victories because my late father kept a cassette video tape by famous Kuwaiti commentator Khalid al-Harban who made a documentary film on the Saudi back-to-back continental football glory entitled "Masters of Asia."
Saudi Arabia announced itself as a major football force, qualifying for the World Cup for the first time in 1994 and winning the Asian Cup for a third time in 1996. That marked the peak of a football generation that remains unmatched as the kingdom's sports found itself increasingly mired in chaos and corruption in the following years.
Meanwhile, the kingdom's Gulf neighbours have decided to increase their investment in sports to put themselves on the international map. Knowing they lack the required talent pool to compete due to their small native populations, they instead focused on building infrastructure and hosting international tournaments as Saudi Arabia stagnated.
The UAE launched the Dubai World Cup, world's richest horse race, in 1996. Ten years later, Qatar hosted the Asian Games and not long after that the tiny gas-rich Gulf state sent shockwaves through the global sports scene with a controversial win of the right to organise the 2022 Fifa World Cup.
Moreover, both the UAE and Qatar have sought to extend their sports influence abroad by investing in European football clubs like Manchester City and Paris Saint-German, respectively.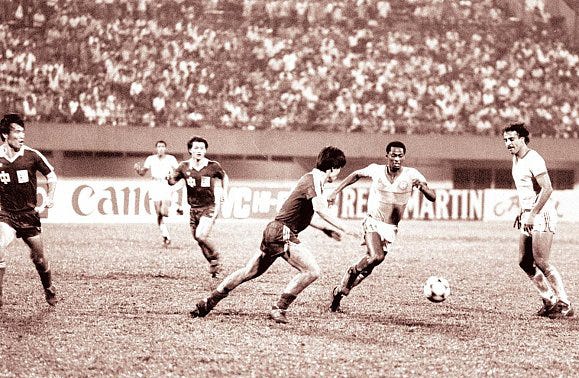 The sleeping giant elephant in the room was Saudi Arabia.
A country of 30 million people with a football-obsessed young population and the most decorated teams on both national and club level. As Crown Prince Mohammed bin Salman launched an ambitious plan to reform the kingdom's economy and culture, it has become obvious that sports will be an integral part of that strategy.
First, you have what two words that consultants who work with the Saudi government describe as catnip for senior officials: "quick wins." Using its financial muscle and market scale, Saudi Arabia has signed deals to host the super cups of both Italy and Spain, Formula-E races, wrestling shows, a Golf tournament and a major boxing fight among other events over the last 24 months.
This has not come without controversy as human rights groups accused Saudi Arabia of using "sportswashing" after the kingdom has come under heavy scrutiny over the killing of journalist Jamal Khashoggi and the crackdown on other activists. Officials reject this criticism.
"There will always be a perception of Saudi, no matter what you do, that these guys are just sitting on a bundle of cash and they're just spending it left right and centre," sports minister Prince Abdulaziz bin Turki told FT last year. "But we know what's best for us and we know what we want, and that's what we're going to go out and do."
Second, Saudi Arabia wants to produce winning teams and athletes. This an area where the kingdom believes they have a major advantage over their Gulf rivals. In recent weeks, Riyadh-based club al-Hilal won the Asian Champions League and the national U-23 team has qualified for this year's Tokyo Olympics.
Some of the future plans were probably unthinkable just a few years ago, including the launch of a nationwide women's football league as well as Olympic-style Saudi Games with the participation of more than 6,000 athletes from both genders scheduled for April this year.
Finally, the Wall Street Journal reported last month that Saudi Arabia's Public Investment Fund is in advanced talks to acquire English football club Newcastle United in a deal said to be worth £340 million.
It remains unclear if the deal would be completed, but all of the above suggests a multipronged Saudi push to dominate the Middle East's sports arena in the same way they are doing with other sectors like business, entertainment and culture.
Earlier this month, the kingdom announced that it has officially submitted a bid to host the Asian Cup in 2027. The Saudis will hope that the football tournament that has launched their sports into the international stage will help them regain that position.
In other news
King Salman has ordered a limited shuffle of his cabinet this week. The royal decrees announced Tuesday saw the return of former energy minister Khalid al-Falih to the government as minister of the newly established Ministry of Investment. The authorities for tourism and sports have been upgraded to ministries while media minister Turki al-Shabana has been dismissed after 14 months on the job.
Saudi Arabia has announced temporarily suspendeding the entry of Muslim pilgrims seeking to worship at the holy cities of Mecca and Medina as the kingdom attempts to slow the spread of the deadly coronavirus.
---
That is all for this dispatch from Riyadh Bureau. Thanks for reading! You can send your feedback by email: alomran@gmail.com. If you enjoy this newsletter please do share it with others.