Discover more from Riyadh Bureau
News, analysis and commentary on Saudi Arabia
Over 3,000 subscribers
Modicum of nostalgia
Welcome to the latest edition of Riyadh Bureau, a newsletter for people interested in Saudi Arabia — written by me, Ahmed Al Omran. If you are not a subscriber, use the button below to subscribe. Send your feedback to alomran@gmail.com or via Twitter: @ahmed
Drivers in training
It's been a year since Saudi Arabia lifted the ban on women driving. Even though the significant event was overshadowed by the government decision to arrest female activists just weeks before implementation, gaining more access to freedom of movement cannot be underestimated as Saudi women continue to seek more rights.
There are no official statistics on how many women are on the roads now, but it is clear that the demand for licenses far outstrips the limited capacity of driving schools in the country where the waiting lists remain long.
Some women who know how to drive have taken the risk of doing so even without a license, and the police have been generally lenient about it, while others have traveled to neighbouring Bahrain and UAE to obtain licenses that are valid in the kingdom under the GCC rules.
To get a taste of what the experience of driving has been like for a Saudi woman, this account by Lulwa Shalhoub on the BBC website is worth reading:
After 12 months, does seeing women drive still turn heads?

It certainly stood out when I, a Saudi woman, first drove a female friend in the front passenger seat and three male colleagues (two Westerners and a Saudi), in the back seat. They told me other drivers raised their eyebrows on seeing something which was not yet a familiar sight.

For me at least, noticing women drivers continues to fill me with pride and joy.

I see women driving fully veiled (except for their eyes) as well as women without headscarves, which is part of the usual dress code for women in Saudi Arabia.

Driving, it seems, allows women to assert a modicum of individuality and freedom of choice.
While women do not need the permission of their male guardian to apply for a driving license, some women have in recent months sought to protect this right by including it as a condition in their marriage contracts, as Anuj Chopra reports for AFP.
Using conditions in marriage contracts to assert certain rights is a tactic that has been previously advocated by some women activists, but the vocal demands to end male guardianship in the kingdom have notably quieted down as some of the most prominent figures of the feminist movement remain on trial.
'Body is heavy'
The trial reportedly resumed on Thursday as Saudi Arabia found itself under renewed scrutiny over its human rights record in recent weeks after Agnes Callamard, the UN special rapporteur on extrajudicial executions, released a report calling for investigating Crown Prince Mohammed bin Salman because there is "credible evidence" that he and other senior officials were liable for the killing of journalist Jamal Khashoggi.
Callamard was given access to some recordings of conversations inside the Saudi consulate in Istanbul but she was not allowed to obtain a copy of the recordings or a transcript. Based on these recordings, she provides some disturbing details of the last hours before Khashoggi was killed:
At 13:02, inside the Consulate, Mr. Mutreb and Dr. Tubaigy had a conversation just minutes before Mr. Khashoggi entered. Mr. Mutreb asked whether it will "be possible to put the trunk in a bag?" Dr. Tubaigy replied "No. Too heavy." He expressed hope that it would "be easy. Joints will be separated. It is not a problem. The body is heavy. First time I cut on the ground. If we take plastic bags and cut it into pieces, it will be finished. We will wrap each of them." (…) At the end of the conversation, Mr. Mutreb asked whether "the sacrificial animal" has arrived. At 13:13, a voice said "he has arrived."
Callamard acknowledged in her report the "extreme sensitivity" of considering the criminal responsibility of the crown prince and his top aide Saud al-Qahtani, a senior adviser to the royal court who has not been charged. "No conclusion is made as to guilt," she wrote. "The only conclusion made is that there is credible evidence meriting further investigation, by a proper authority, as to whether the threshold of criminal responsibility has been met" for the two men.
Saudi Arabia rejected the report, saying it was based on "prejudice and pre-fabricated ideas." But the lack of clarity around Qahtani's fate in particular remains a point of concern for US officials who have put him on sanctions lists and reportedly pressed their Saudi counterparts for "a fair and transparent judicial process without undue delay."
The Wall Street Journal said Prince Mohammed has placed Qahtani under house arrest to show the US that the Saudis were getting serious and wanted to reset the post-Khashoggi relationship with Washington. But Saudi officials told WSJ that Qahtani remains an adviser to Prince Mohammed behind the scenes and won't face serious punishment beyond restricted movements.
(Not very) angry friends
That reset of the relationship appears to be already on track: US President Donald Trump had a breakfast meeting with the crown prince during the G20 summit in Osaka this week. As they started the meeting, Trump praised the kingdom's de facto leader:
It's an honor to be with the Crown Prince of Saudi Arabia, a friend of mine, a man who has really done things in the last five years in terms of opening up Saudi Arabia. And I think especially what you've done for women. I'm seeing what's happening; it's like a revolution in a very positive way.
Trump ignored questions about Khashoggi ahead of the meeting, but he addressed the issue later in the day during a press conference. He said he was "extremely angry and very unhappy" about the murder but added that "nobody has directly pointed a finger" at the crown prince.
Trump has remained a staunch defender of the crown prince and relations with Saudi Arabia despite push back from Congress and calls by some presidential candidates to re-examine the alliance. Prince Mohammed earlier this month gave a long interview to Saudi-owned London-based pan-Arab newspaper Asharq al-Awsat where he dismissed anti-Saudi sentiments in the US:
Throughout the Kingdom's history, however, we have previously faced such campaigns that are often biased and not based on accurate information. We constantly seek to clarify facts and misconceptions by some parties in the US and other countries. We listen to various views and we welcome constructive and rational advise, but ultimately our priority is our national interest.
Last year's G20 summit in Buenos Aires was somewhat awkward for the crown prince as it came just few weeks after the Khashoggi murder. But this time around saw MBS being re-embraced and positioned front and centre, as the kingdom prepares to host next year's summit in the capital Riyadh.
The crown prince also sat for meetings with other world leaders, including Vladimir Putin who announced that the two countries agreed to extend oil production cuts. Does the announcement signal Russia's takeover of Opec as some people say? Not necessarily, but Saudi Arabia cannot keep cutting production in perpetuity, as David Sheppard noted in FT last week.
"At some point Saudi Arabia will need to start fighting again for market share, boosting production and accepting the resultant period of lower prices as a necessary cost of slowing down its rivals," he wrote.
The Saudi-Russian agreement should provide some assurances to the oil market after few nervous weeks following sabotage attacks on tankers in the Gulf as well as targeting of oil infrastructure in the kingdom. The tension in the region has fluctuated as all parties said they want to avoid war, but the frequency of Yemen's Houthi drone attacks on southwest Saudi Arabia has increased nevertheless. Abha airport was targeted twice in June, leaving one person dead and more than 30 people injured.
Want it that way
Rising political tensions have not slowed down the pace of Saudi social and cultural reforms, with Jeddah summer season in full swing and the city announcing plans to host the kingdom's first international film festival next year, but not without the usual controversy or two.
Dubai-based nightclub White announced it would open a pop-up venue on Jeddah's waterfront, with American artist Ne-Yo slated to perform for its inauguration. As videos started circulating on social media about the nightclub and its "halal bar," the General Entertainment Authority said it would investigate the event despite the fact that a senior official denied there were any violations there just two days earlier.
The confusion around the event has led Ne-Yo to cancel his appearance. The venue apparently did re-open in the end. 
Ne-Yo was a no show, but Saudi millennials got a proper does of 90s nostalgia as the Backstreet Boys took the stage at King Abdullah Sports City in Jeddah before a very enthusiastic crowd over this weekend. My friends even made these cool T-shirts for the concert, featuring the band's name in Arabic above pixel art drawings of its members: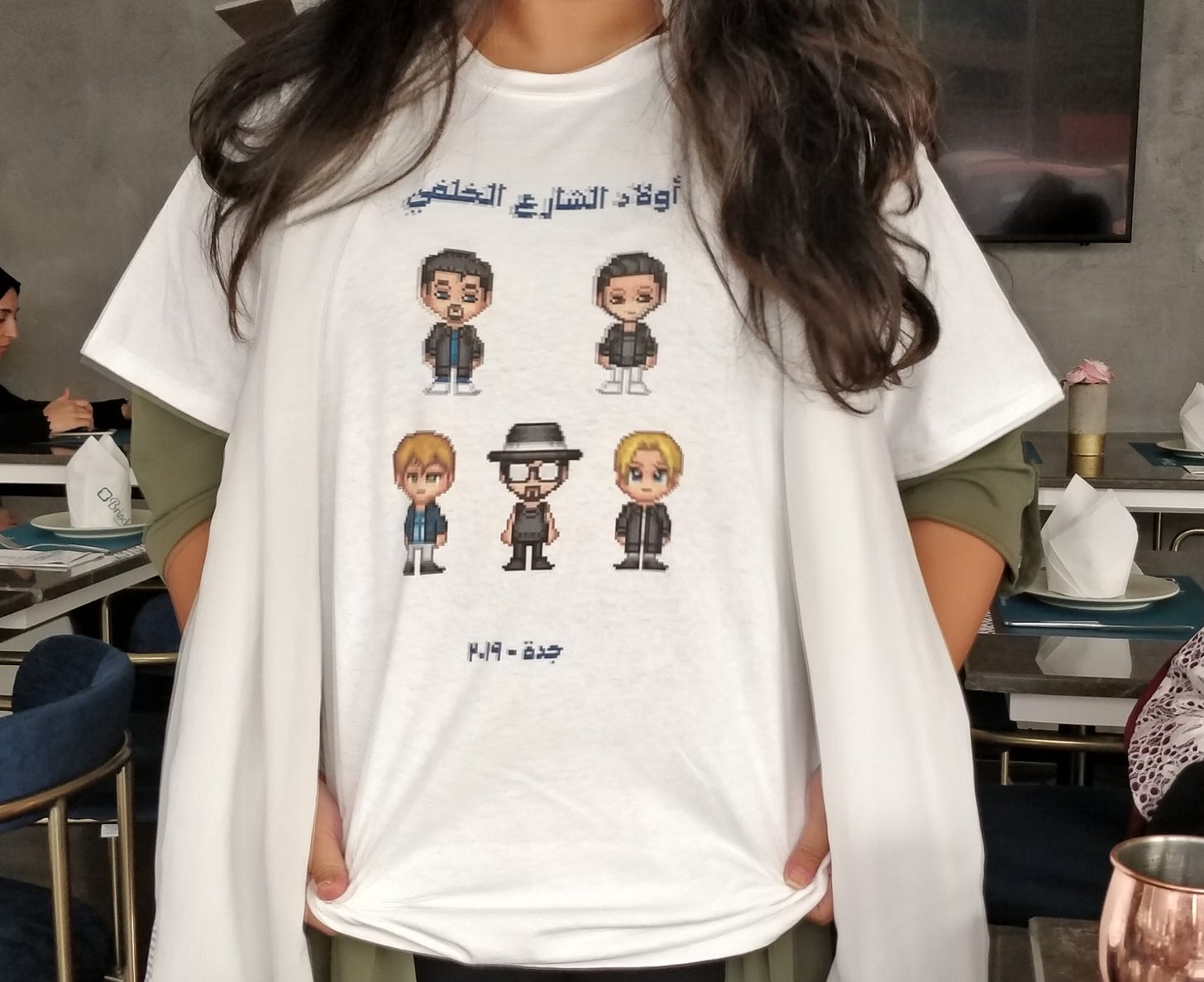 Such performances by local and international artists are likely to continue to be controversial, even though conservatives who would typically oppose them are no longer feeling safe enough about expressing that publicly, but those who support them are feeling increasingly emboldened to defend them.
"We got sick of living double lives and wasting our fortunes in neighbouring countries to attend concerts organised there for Saudi singers," columnist Akl al-Akl wrote in al-Hayat daily.
The fact that the kingdom's minister of Islamic affairs, a Sharia-trained scholar who previously led the religious police, is now openly meeting with a female deputy minister of labour to discuss women's employment shows the rapid pace of change. A picture like this was probably unthinkable just few years ago.
In case you missed it
My latest big piece for FT, co-written with Andrew England, examines how Saudi businesses are adapting as the kingdom undergoes difficult economic reforms to make the country less dependent on oil revenues. Winners and losers are emerging, but a thriving private sector is essential for economic transformation and the creation of jobs for young Saudis.
===
That is all for this dispatch from Riyadh Bureau. Thanks for reading! You can send your feedback by email: alomran@gmail.com. If you enjoy this newsletter please do share it with others.