Discover more from Riyadh Bureau
News, analysis and commentary on Saudi Arabia
Over 3,000 subscribers
Manly instincts
Happy new year! Welcome to the latest edition of Riyadh Bureau, a newsletter for people interested in Saudi Arabia — written by me, Ahmed Al Omran. If you are not a subscriber, please use the button below to subscribe. Send your feedback to alomran@gmail.com or via Twitter: @ahmed
Mansour al-Rugaiba was unapologetic.
"For those who supported me, I say thank you. And for those who attacked me, I say may God forgive you," he said as he looked directly into the front camera of his phone to the millions of people who follow him on Snapchat.
The Saudi social media influencer was facing a backlash in early December after he posted a rant about the dangers of allowing men and women to sit next to each other at the workplace.
"If you are working with girls for six hours a day, even if you are a man who lowers his gaze, but keep seeing women and coming and going around you without provoking your manly instincts then may your manhood rest in peace and I advise you to visit a psychologist or a urologist," he said. "Don't try to convince me otherwise! This is human nature."
While such controversies are not rare in the vibrant Saudi social media scene, this one has appeared to attract strong reactions as it has come at a time when the government has been pushing to change the role of women in public life and increase their integration in the workforce.
Even the staid Saudi state news television channel, which usually stays out of such flare-ups, got involved by covering Rugaiba's comments in its bulletins with one female anchor describing his views as "slander, lustful and sick."
Rugaiba, watching the segment on television and providing live commentary on Snapchat, defended himself by saying that his comments were taken out of context and that his company employed more than 300 Saudi women ten years ago in a setting he described as respectful and appropriate for the traditions and norms of society.
The man, who hails from the ultra-conservative heartland region of Qassim, has built his reputation as a self-made businessman chronicling his success and failure using social media platforms as entrepreneurism became a buzzword among young people in Saudi Arabia.
He says he was a government employee who decided to quit his job in the early 2000s and invest all his money in the booming Saudi stock market, making himself a millionaire in the process, before losing everything when the Tadawul crashed in 2006 and finding himself forced to work in a morgue as he contemplated his rapid rise and fall.
That dramatic background story helped him build an audience as Snapchat started to gain traction among young Saudis who started following him and other personalities who managed to convert their charisma and fame in other fields into a lucrative business as influencers.
The way it works seems pretty simple: the influencer posts photos and videos from their daily life, including rants about whatever topic they want, mixed with ads for products and companies that pay to be featured in the feed.
Some of these ads are direct, where the influencer openly encourages followers to buy something and provides a discount code with it. Other ads are more subtle product placements: a water bottle from a certain brand that the influencer would casually pick up for a sip during the rant or a power bank left visibly next to his (other) smartphone on the table.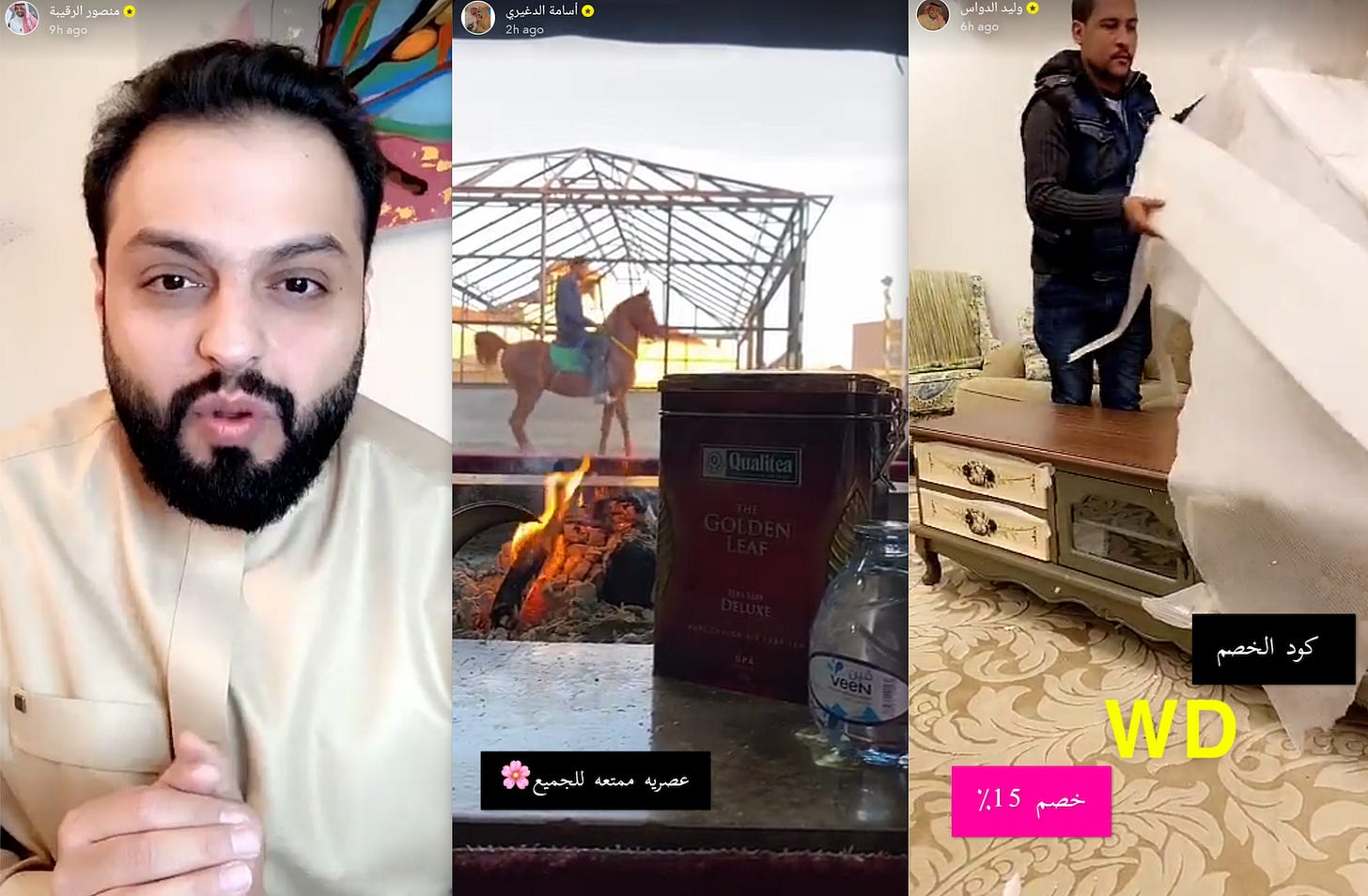 How much money is there to be made by doing that? It depends on who you are and how large is your audience, but let's take Rugaiba as an example since he seems to be one of the few influencers willing to offer some hints about it.
Speaking during a Ramadan television talk show last year, Rugaiba said he makes more than 18 million riyals ($4.8 million) in annual revenue from Snapchat ads, including fully paid trips abroad on private jets to promote companies and their products.
However, it is not just companies who approach social media influencers. Many Saudi government departments are also becoming increasingly dependent on the same tactic to promote their events and services to citizens. This trend has prompted some officials to raise alarm about whether the government should spend public money on recruiting influencers. 
Abdullah al-Sufyani, a member of the advisory Shura Council, last month urged the anti-corruption commission to investigate government contracts with social media influencers "because there are indications that large amounts of public money are being wasted." He also expressed concerns that some departments may use this tactic to push back against criticism from citizens instead of working to improve the services offered to them.
The defiance of Rugaiba in the face of criticism shows that he is confident advertisers will continue to be willing to pay large sums of money for his services. It also underscores the fact that his negative views on gender-mixing remain relevant and common among large segments of the population despite the government-sponsored social liberalisation push in the last few years.
One of those advertisers flew him and two friends to the UK in late January. At some point during that trip, they narrowly escaped prison after one of them published a video plucking the feathers of a pigeon in a hotel bathtub. This time he had to show some remorse.
"I apologise for this mistake," Rugaiba, who keeps a neatly-trimmed full black beard, said as he stood outside the Saudi embassy in London. "I thought that the issue would end in paying a fine. But had it not been for the embassy's stance, the issue would have led to jail," he said.
It will probably not be the last time he gets himself in trouble, but he was lucky in this instance not just because the embassy saved him but also because another major news story dominated Saudi headlines around the same time.
On January 22, the Guardian reported that Amazon founder Jeff Bezos had his mobile phone "hacked" in 2018 after receiving a WhatsApp message that had apparently been sent from the personal account of Crown Prince Mohammed bin Salman. The encrypted message is believed to have included a malicious file that infiltrated the phone of the world's richest man, according to the results of a digital forensic analysis.
At first, unnamed Saudi officials told some American media outlets that it is possible one of the aides around MBS has done this without the prince's knowledge and that it was not necessarily done to blackmail Bezos. But Saudi officials speaking on the record, like minister of state for foreign affairs Adel al-Jubeir, dismissed the allegation as "absurd" and "a total fabrication, a total lie."
Cyberexperts said the analysis, conducted by FTI consulting, relied heavily on circumstantial evidence to make the case and left several major technical questions about the incident unexplained and in need of more examination, according to the Wall Street Journal.
In case you missed it
My latest story for the Financial Times looks into the recent phenomenon of single Saudi women from coastal regions moving to Riyadh as the conservative capital becomes more socially opens.
---
That is all for the first dispatch from Riyadh Bureau in 2020. Thanks for reading! You can send your feedback by email: alomran@gmail.com. If you enjoy this newsletter please do share it with others. Happy new year!